Scratch Cat is an orange animatronic cat with a white muzzle, belly, and tail. He has rounded, white teeth. He is a coding helper for little crybabies who go like "I have no idea how this works!" He actually does a great job dealing with them, surprisingly. He sounds like Ruff Ruff from Ruff Ruff, Tweet, and Dave (look it up if u dare).
Behavior
Scratch Cat starts in the Coding Area, and usually leaves first. Some reports have been heard of him saying "Are you kids all right?" like, 1,000 times. When Scratch Cat gets to the Left Hall, his eyes turn dark and scary. But they turn blue again when he kills you. His jumpscare is him throwing a computer mouse at your eye.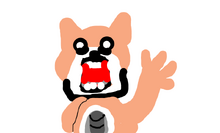 Ad blocker interference detected!
Wikia is a free-to-use site that makes money from advertising. We have a modified experience for viewers using ad blockers

Wikia is not accessible if you've made further modifications. Remove the custom ad blocker rule(s) and the page will load as expected.