---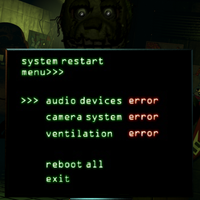 "The systems are in need of rebooting."
This article is a stub. Please help by editing and adding more information to the page. However, you must have permission from the creator of the page, unless you are that said creator, then edit to your heart's intent!
---
Sonata
is an animatronic jackal that only appears in Night 2.
Appearance
Sonata is a brown jackal with a blacked colored back (much like real life jackals) and purple eyes. She appears to wear a small purple hat with a pink ribbon on it. She wears a pink shirt with an eighth note symbol on it, she wears purple and pink skirt, pink-and-white stockings with light pink shoes. She appears to have a microphone which matches her hat. Which it means she's a singer of the stage. During the night, her eyes appear to be black and has a toothy grin.
Trivia
She appears to sing Kakome, Kakome or other songs that possibly horrify the player. Sometimes, when she sings a song, it disables the player's flashlight (Just like Balloon Boy does when he enters the office) when her voice becomes louder, which is meant she is near the vent or the entrance. The only way to stop her from singing is to wear the Freddy mask and her voice will be never heard again after 15 seconds. Which it meant she left the vent or the entrance.
Gallery
Ad blocker interference detected!
Wikia is a free-to-use site that makes money from advertising. We have a modified experience for viewers using ad blockers

Wikia is not accessible if you've made further modifications. Remove the custom ad blocker rule(s) and the page will load as expected.