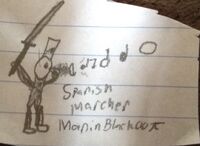 "This is our enemy, this our sword, this is an army, this is a chord!"-Spanish Marcher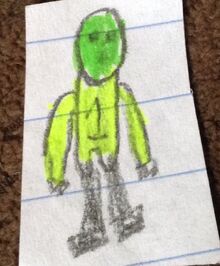 The Spanish Marcher is a male animatronic humanoid that is a general in the Cutting Crew. He is known for his many uniforms, but he is best known for his war uniform, a grey suit with orange trims. He also has a white plum hat and face.
Backstory
Spanish Marcher, whose real name is John Strauss V, was originally a prop character for the Cutting Crew, occasionally performing. He was then given a job as general of a couple of clones of himself; he became one of the Crew's greastest forces, and a big help to reform the Crew post-meteor.
Personality
He is a very stern, tough general, and some of that runs off on his general persona. Mostly, he is very risky, sly, and war-hungry.
Special Relations
Amity Kingsland: He is training her to be a braver person. The two are polar opposites, but they attract.
Top Chef: He hates his guts, but admires his war-powered drive.
Phantoms/Hallucinations/Etc.
He can be hallucinated with human eyes, occasionally. He also has a Phantom that can appear in the Kitchen, which is him with no eyes and a blood covered uniform.
He has a proxy gained from System X, Swift.
Behavior
He is active on Night 3 and onwards, and can move to any room. He is one of the only animatronics who cannot be seen in a blind spot, so one must watch carefully for him. Moving to throw you off, you must be able to multitask watching him and taking care of other problems.
Trivia
-His real name is a direct reference to John Strauss II, write and composer of the Spanish March.
-In the Cutting Crew's jumpscare, he can be seen in the very back of the crowd, playing his trumpet.
-In the picture of him, he is playing an actual line from the Spanish March.
-Partly inspired by General Antonio Lopez de Santa Anna, a general in the U.S-Mexican War, and Sgt. Hartman from Full Metal Jacket.
Ad blocker interference detected!
Wikia is a free-to-use site that makes money from advertising. We have a modified experience for viewers using ad blockers

Wikia is not accessible if you've made further modifications. Remove the custom ad blocker rule(s) and the page will load as expected.