Springtoy is an antagonist in
FredBear's Family Diner
.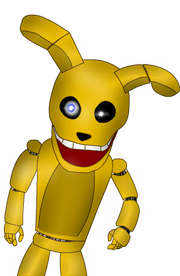 Appearance
Springtoy looks like a miniature version of Spring Bonnie (Springtrap). It shows that Springtoy has a small endoskeleton instead of a plush toy.
In Five Fearful Nights at RX's, he looks brand new and Shiny, his eye sockets are bigger than his actual eyes however.
Behavior
Springtoy starts at Game room where he will be sitting (similar to Plushtrap) and then proceeds to the Mainhall where he will be staring at the camera, afterwards he will be standing on the Arcade. When Springtoy enters the vent, the player must close it before he enters the office, because if he does than it's game over for yah.
Trivia
Is is obviously inspired from Plushtrap.
Unlike Plushtrap, Springtoy's eyes can be closed.
He also appears in One Night at Seth's.
Springtoy's endoskeleton isn't visible unless he opens his mouth.
In the Play Room when sitting down, Springtoy has a dopey look.
Gallery
Ad blocker interference detected!
Wikia is a free-to-use site that makes money from advertising. We have a modified experience for viewers using ad blockers

Wikia is not accessible if you've made further modifications. Remove the custom ad blocker rule(s) and the page will load as expected.