Star:EVERYONE I HAVE AN ANNOUNCEMENT! WERE GOING ON A OCEAN TRIP!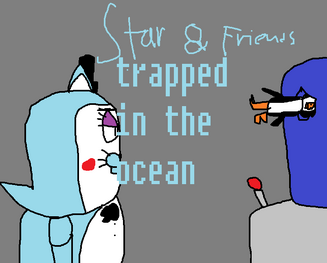 Everyone:YAY!!!!!!!!!!!!!!!!
(at the ocean trip place)
guy:hope u enjoy,you also have another group with u,frisky & friends!
Star:YAY! those are my friends!
Katie:now i can flirt on polly
oscar:damn it
Frisky:Hi star!
star:hi frisky!
(everyone goes in boat)
Star:i love this boat!Oscar stop watching Teletubbies
Oscar:no!
star:ugh
Katie:hi polly!(kisses him)
polly:NOOOOOOOOOOO!jumps off the boat
Star:he hate you do you know that?
Katie:Oh hes just a sly dog
star:what ever
oscar:YAY ITS PO!
Animatronic dipsy:hey guys
star:oh hey dipsy ur the only good dipsy
Dipsy:thanks
Speaker:THE BOAT IS SINKING STARS GROUP,FRISKYS GROUP,AND THE TUBBY BOT GROUP YOU ARE THE ONLY ONES TO ORDER A EMERGENCY SUBMARINE!
Oscar(continues watching teletubbies)
(everyone runs in the submarine)
Star:Is everyone ok?
everyone:yes!
Star:good
(to be continued)credit to Springthing 14 for frisky and friends
animatronic po:IM SCARED!
star:i know,im scared too,now lets stay calm and i will get the snacks.
oscar:no how about we do something else he he.
star:GOD DAMMIT OSCAR,YOU ATE THE COOKIES!
oscar:waaaaaaaaaaaaaaa!you yelled at me and oh the teletubbies are here!
dipsy:were tubbybots
oscar:THEIR FREAKIN SCARY WAAAAAAAAAAAA!
frisky:SHUT UP OSCAR
jessi:i will throw you off the submarine if you don't SHUT UP!
star:yes do that is hes stupid again
oscar:at least i have my tablet and this submarine has WiFi so I CAN WATCH TELETUBBIES!
tablet:your battery is at negative 9999999999999999999(powers off)
oscar:damn it
tinky winky:i ate my legs,one of my ears,and my triangle on my head
dipsy:i ate my left eye
po:i ate my suit arm and some holes in me and both of my eyes
laa laa:i ate my suit head and some hole
noonoo:(vacuum noise)
star:you know we had snacks right
tubbybots:REALLY!
star:YES really!
(to be continued)
oscar:LETS KILL OUR SELFS BY BREAKING TEH GLASTH ON TEH BERT
star:ur using bad grammar also NO!
(freddy and friends knock on glass)
(star and friends let them in by a teleporter)
chica:at least my cupcake is ok
cupcake:im a cupcake(derp face)
(10 hours later)
star:there's no islands and so far we been driving for HOURS!
oscar(sleeping)
katie:at least im with polly
polly:i just want to jump out and drown
(jessi bashes katie with a bat)
jackson the bat:OW! that hurt!
jessi:sorry
star:IM BOARD!
Oscar:i like pizza
jessi:OSCAR SHUT UP!
Oscar:duh im a stupid mouse who wears diapers and poops his panties (weird noise)
Jessi:NOW YOU WILL GET IT!!!!!!!!!!!!!!!(smashes him through the window)
everyone:AHHHHHHHHHHHHHHHHHHHHHHHH!!!!!!!!!!!!!!!!!!!!!!!!!!!!!!!!!!!!!!!!!!!!!!!!!!!!!!!
(alarm)
Star:YOU FLOODED THE PLACE
Oscar:HA! im not dead!
jessi(cuts his head off)
Star:LOOK!A RESCUE TEAM
Everyone:HELP US!
(rescue team takes them to base)
Star:thank u so much
(to be continued
Ad blocker interference detected!
Wikia is a free-to-use site that makes money from advertising. We have a modified experience for viewers using ad blockers

Wikia is not accessible if you've made further modifications. Remove the custom ad blocker rule(s) and the page will load as expected.