---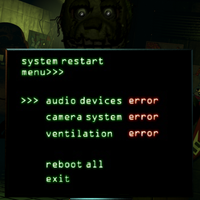 "The systems are in need of rebooting."
This article is a stub. Please help by editing and adding more information to the page. However, you must have permission from the creator of the page, unless you are that said creator, then edit to your heart's intent!
---
"I am Sython. Trapped for ages. LET ME FREE"
―Sython
Sython is a animatronic trapped in a arcade machine in the safe room. He sprouts two bone wings. Massive claws, giant horns, and razor-sharp teeth. No picture has ever been taken of him. Although he will sometimes yell his quote "I am Sython. Trapped for ages. LET ME FREE".
P.S
You can use this for whatever you please.
Ad blocker interference detected!
Wikia is a free-to-use site that makes money from advertising. We have a modified experience for viewers using ad blockers

Wikia is not accessible if you've made further modifications. Remove the custom ad blocker rule(s) and the page will load as expected.