Ad blocker interference detected!
Wikia is a free-to-use site that makes money from advertising. We have a modified experience for viewers using ad blockers

Wikia is not accessible if you've made further modifications. Remove the custom ad blocker rule(s) and the page will load as expected.
---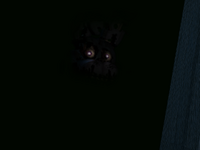 It could be there...
This article is a stub, please fix it by expanding its content, aslong as you have permission from the creator, unless this is your page, then go ahead and edit to your delight!
---
There's an old tape in the back room of Cafe Trenzalore. This tape belongs to Jon Pertwee, the old guy who died back in 90's. This tape was recorded back in 1964.
LOADING FEED Edit
"Hello? Is anyone there? Okay... Uhhhhh... What ever you do, Do not let those tubbybots out from the secret room what we built a week ago, okay? I don't want any trouble... An-
LOADING FEED Edit
19th August, 1964... Nothing has been happening... Animatronics are not acting up... Nothing seems to be wrong, I don't get it...
LOADING FEED Edit
25th December... I was left here to get rid of the animatronics... Who likes Freddy Fazbear and Toy Chica anyways? Hmmmm... What's that? Ohhhhh... A emerald hat... AN-
In the further inspection, there's no...remaining records of the old geezer or the tapes. Only thing we know is that he died in 1996.