Ad blocker interference detected!
Wikia is a free-to-use site that makes money from advertising. We have a modified experience for viewers using ad blockers

Wikia is not accessible if you've made further modifications. Remove the custom ad blocker rule(s) and the page will load as expected.
---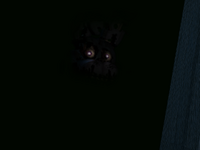 It could be there...
This article is a stub, please fix it by expanding its content, aslong as you have permission from the creator, unless this is your page, then go ahead and edit to your delight!
---
Evil Weevil is a white weevil. This is why he kills people. He was supposed to be on the Show Stage but he was in the Parts/Service instead. Bonnie was onstage performing. Meanwhile, the animatronics talked to Evil Weevil for 6 hours.
What was happening onstage
Edit
Bonnie was performing for some kids. He was sort of glad he was wearing the Freddy mask because he didn't want to scare kids.
He stayed there for 6 hours and did not even think about eating the cupcake.
Hours 1 and 2
Edit
Freddy said, "The night guard is up to dirty tricks. Dirtier than some pizza left outside. He is planning to destroy us. He must die", then he and Evil Weevil talked some more. Evil Weevil felt eviler.
Hours 3 and 4
Edit
Chica said, "Freddy's right. Let's break his jaw, muffle his voice, chip his teeth..." and they talked some more. Evil Weevil hated the night guard.
Hours 5 and 6
Edit
Foxy said, "Hurry! He's gonna mangle us! And we're already broken! We'll be dead!", then they talked some more. Evil Weevil wanted to kill the night guard.
Locked up
Edit
For a week, he was locked up. He came back shortly after. Bonnie was back in Parts/Service.