The Nightmare In The Pizzeria 2 or TNITP2 is a sequel to The Nightmare In The Pizzeria, is a multiplayer fanon game like the prequel.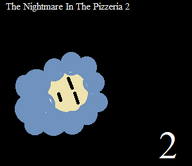 Plot
According to the bot Helper 2.0, you were invited to Sheepy's Pizzeria 2! You are invited to celebrate and will "play" with animatronics, just choose your team and try your best survival and strategy.
Gameplay
It's now the same of Five Night's at Freddy's 2, now you have a Sheepy's mask and the new infinite lightning system.
Updates
Coming soon...
Teams
The teams are the same of the prequel, but the new team is the withered team!
Withered Team
This team is the withered animatronics present in the frist game.
Toy Team
This team is the Toy animatronics (the new ones).
Team Night-guard
You know what is it.
Modes
Singleplayer: No teams allowed, no shop allowed, in this mode you play only as night guard trying to win the five nights.
Multiplayer: Teams allowed, shop allowed, in this mode you can play as the toy team, withered team and the night guard team.
Characters
Toy animatronics
This section is for toy animatronics!
Toy Sheepy (A.K.A Sheepy 2.0)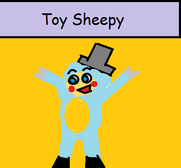 Toy Sheepy has several differences from the first Sheepy, it has the lightest color, reddish cheeks, and a gray hat, orange juice skin and now he uses a kind of black shoes.
Toy Mike (A.K.A Mike 2.0)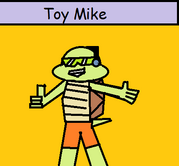 Toy mike also has several difference from the frist one, His glasses are now green color, your skin also became clearer and now he wears headphones and orange pants.
Toy Amy (A.K.A Amy 2.0)
Toy Amy suffered minor differences, now she wears a pink short, has some curves for a more feminine way and now she wears white boots, she no longer has a shirt as its predecessor.
Toy Doge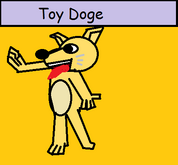 He don't have many differences, but is new and improved...
The Mimic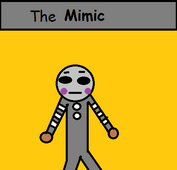 The Mimic is a mysteryous animatronic that appears in the pizzeria, he is like puppet, but he have minor differences, he can teleport to office if the guard not lock the door of his room (the door will reopen slowly).
Withered Animatronics
Withered Sheepy
Sheepy seems destroyed and full of holes now, with parts of its endoskeleton head out, and his right arm was hit and is now full of bare wires, its color was darker (like the cyan color), and his face was disfigured.
Withered Mike
Obs: My folder was deleted mysteriously, then the rest of the other characters will be reefeitos later.
Mike now lost his glasses your eye your endoskeleton is now visible, its color seems weaker and he lost the cover of one of his legs.
More information later...
Shop
Badges
Events
Ad blocker interference detected!
Wikia is a free-to-use site that makes money from advertising. We have a modified experience for viewers using ad blockers

Wikia is not accessible if you've made further modifications. Remove the custom ad blocker rule(s) and the page will load as expected.