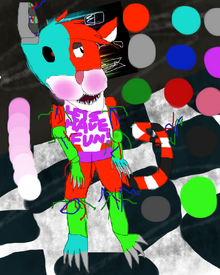 Tina is a tiger adopt that was adopted by Glitchswift.
During Day:
Party Animal
Works as a drummer and waitress
Friendly
During Night (First Game):
Very aggressive
In jumpscare you can see blood drooling from her mouth and coming from her missing eye
Way she goes is Dining Room > Bathroom > Kitchen > Right hallways > Office
During Night (Second Game):
Less aggressive due to having two spirits in the suit, one remembering Jeremy
Way she goes is Show Stage> Game Area> Kid's Cove> Party Room 4> Right Air Vent> Office
Ad blocker interference detected!
Wikia is a free-to-use site that makes money from advertising. We have a modified experience for viewers using ad blockers

Wikia is not accessible if you've made further modifications. Remove the custom ad blocker rule(s) and the page will load as expected.