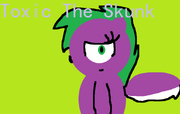 Toxic is a poisonuos skunk. Just one joke and she will snap.
Appereance
Toxic is a purple skunk with toxic green hair, She has big green eye in the day and small green eyes in the night.
Child Backstory
Toxic used to be a younger kid named Xarna. She was killed by Purple Guy the day after Cole died. In the night, Toxic is possessed and looks for revenge on the Purple Guy
Quotes
Toxic has said a few pick up lines like these.
Hey! - Saying hi
Bye - Saying goodbye
Whatever - when she is jeleous
Trivia
Her favorite song is Toxic due to her thoughts it is talking about her.
Gallery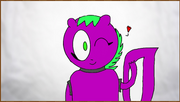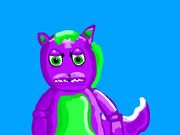 Ad blocker interference detected!
Wikia is a free-to-use site that makes money from advertising. We have a modified experience for viewers using ad blockers

Wikia is not accessible if you've made further modifications. Remove the custom ad blocker rule(s) and the page will load as expected.