---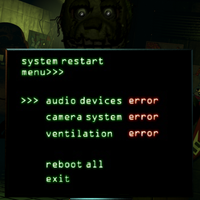 "The systems are in need of rebooting."
This article is a stub. Please help by editing and adding more information to the page. However, you must have permission from the creator of the page, unless you are that said creator, then edit to your heart's intent!
---
NOTE:This page is about a youtuber animatronic remember some articles don't make anything real :-).
Toy Pewdiepie is the main antagonist of Five Nights at Youtubers and Game Characters 3:Return.
Name:Toy Pewdiepie
appears in game:Five nights at youtubers and game chaRacters 3:return

Last appears:Five nights at youtubers and game characters 4:final

enemies:unkown guards of all series

friends:All of youtuber animatronic and game characters

easter eggs:eyyelles Toy pewdiepie is hallucination if Spiderman is closer to you

jumpscare style:Withered freddy
starts:He come of all cameras(3 am),all nights
Appearance
He has a blue shirt with red cheeks and brown hair with yellow pants and yellow trousers with red boots
if he appears in your office put on your spodermen mask and he will go away.
Ad blocker interference detected!
Wikia is a free-to-use site that makes money from advertising. We have a modified experience for viewers using ad blockers

Wikia is not accessible if you've made further modifications. Remove the custom ad blocker rule(s) and the page will load as expected.