Under Construction
Toy Sapella is currently under construction. That means some things featured may not be final and will be edited in future. This could also mean you can request ideas in the comments or edit the page if allowed. However, it's best to ask to edit the page, or check if the page has a "public" template.
This is the Toy version of Sapella. If you want the original, click here.
Toy Sapella is a generous half-human and half-robot animatronic who is very polite to lots and lots of people she meets. Until 12 AM and past 6 AM, she's friendly and sweet. This doesn't change much when it's night time.
Other names
Sapompom - Bonnie calls her Sapompom.
Sapella - As there can only be one. But the toy is unpopular...
Personality
Toy Sapella, similar to her normal self, is very polite and friendly to everyone, and treats them as nice as possible, when the guard is on it's night shift, she is still polite, but yet can kill it. She is highly active too.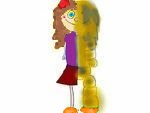 Backstory
Toy Sapella is not actually, the same as her old version. She was entirely made as an animatronic. And she also has MUCH more positivity than the older version.
Behaviour
Toy Sapella starts off at the Prize Courner, then she heads to the Show Stage, then the Main Hall, and goes to attack the player by going down the Main Hall. If she jumpscares the player, to do this, she headbutts the player into submission. 6 seconds in, before the game over screen, you will return to the game, but 1 hour ahead of what you were at before.
Relationships
Friends
Neutral
Enemies