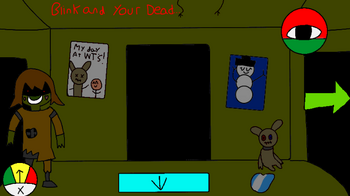 Here is another teaser for the new game. Turns out this will be another short game like Satanic Sidequest, only a little bit longer. As you can see here, here is a room with 3 mechanics visible. 
I also plan to release the story, Operation Takedown Part 2 along with it. So be ready. I will answer questions if there's any. As always, I'll see you around.
(This message is sponsored by H.K.Y.A.L Foundations)
Ad blocker interference detected!
Wikia is a free-to-use site that makes money from advertising. We have a modified experience for viewers using ad blockers

Wikia is not accessible if you've made further modifications. Remove the custom ad blocker rule(s) and the page will load as expected.