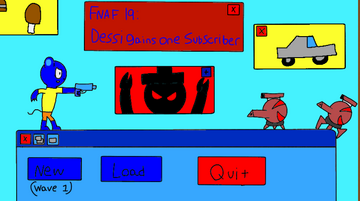 IDEA AND CHARACTER BELONG TO SPRINGTHING14. I ONLY OWN THE ANTAGONISTS FOR THE FANGAME, THAT'S IT.
Sorry for that, I just get really paranoid when I feel like I'm doing something wrong, so I try to take extra precautions. Like I said, Dessi as well as the entire game idea belongs to SpringThing14, I only own the enemies for the game. If you are wondering why I decided to take time creating this game when I should be working on my own games is because this idea really stood out to me and so I thought I could bring it to life and here on the wiki. SpringThing himself told me that I can create the game if I will credit him, which I obviously would. Anyway, here is the title screen for the game and here is the game's main mechanic, but I will not give any more details,
Like Button Blaster - Uses all of Dessi's fans and supporters likes to fire and destroy all enemies that get shot at it. Does moderate damage.
(SpringThing, if you are reading this, than  I apologize if I drew Dessi wrong in any way)
Ad blocker interference detected!
Wikia is a free-to-use site that makes money from advertising. We have a modified experience for viewers using ad blockers

Wikia is not accessible if you've made further modifications. Remove the custom ad blocker rule(s) and the page will load as expected.