Ad blocker interference detected!
Wikia is a free-to-use site that makes money from advertising. We have a modified experience for viewers using ad blockers

Wikia is not accessible if you've made further modifications. Remove the custom ad blocker rule(s) and the page will load as expected.
'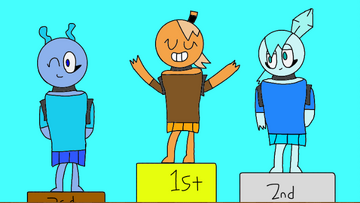 '
Hey, All-Nighters! I have figured out a contest that might be interesting for you and boring to others. I called it a "guessing game! Here is how it goes, I will put down 5 questions below about FNAB and it's spinoffs, your goal is to answer all 10 questions without looking at the page of where the information for the questions. If I read one of your answers and see that you are a person who has never seen or heard of my pages, I will assume you are a cheater! The only people that believe won't cheat on this contest are SpringThing14, Shadowboy192, and Tina .G. Sherwin. If I don't mention you and you view the series, then I apologize. 
Anyway, here are the questions which I require simple answers,
1 - Who is the fourth robot in the main cast?
2 - Who was the first hybrid?
3 - What was The Overseer's nickname?
4 - Who was the main antagonist in Five Nights with Elements 2?
5 - Who caused the Coaster Incident?
Winners -
1st - Gets to be included in the next FNAB game as DLC
2nd - Gets their character drawn in a situation with the FNAB characters
3rd - Gets a shout-out in the next game
(Don't mind the elements in the picture)