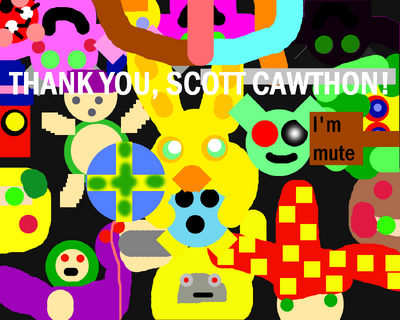 Where my characters are
Bungale: At the top center.
Sapella: To the left.
Hydro: Bottom center.
Pluff: On Hydro's head.
Tyle and Guaco: Bottom left.
Jesster: Bottom right.
Medice: Top left
Boni: Top right
Grace: The "I'm mute" sign.
Bolt-Bon: Dead center.
Pixx: To the left of Bolt-Bon.
Blanch: To the right of Bolt-Bon
Toy Bungale: Top left corner.
Sheca: To the right of Toy Bungale.
Aurun: Covering Toy Bungale in the top left corner.
Toy Sapella: To the right.
Blossom: Above Bolt-Bon, the red arm.
Sollest: The brown arm above Bolt-Bon.
Cassei: The cyan arm above Bolt-Bon.
Balloon Lass: The balloon.
Phantom Bungale: Top right corner.
Pom: The orange arm with the grey rectangle, her pole.
THANK YOU ALL! Do you want me to do this for any other games I did..? FNOC for example?
Do you want me to do this kind of image for Five Nights of Crossover (the new characters included)?
Ad blocker interference detected!
Wikia is a free-to-use site that makes money from advertising. We have a modified experience for viewers using ad blockers

Wikia is not accessible if you've made further modifications. Remove the custom ad blocker rule(s) and the page will load as expected.