So, a little update on Freddy: Starforce (the platformer.) I am dropping the "puzzler" part. Along with this, I am about to release the trailer! But, I need permission for OC use. MIB, I need permission for Lindsay and Cuco. Fox, I need permission to use Holly, as well as every member you own from TAN. All of you others who own a character in the Annihilation, please give me permission as well. Until then...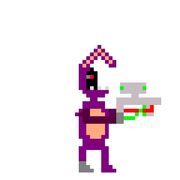 Ad blocker interference detected!
Wikia is a free-to-use site that makes money from advertising. We have a modified experience for viewers using ad blockers

Wikia is not accessible if you've made further modifications. Remove the custom ad blocker rule(s) and the page will load as expected.