Um,hi,i guess. I gotta record messages for you,so,um..Welcome to your first night!
Umm,the company asked me to read this:

Welcome to The New and Improved Fredbear's Family Diner,the classic brought back to life!So now that thats done..

Can you please,ummm monitor Fredbear and his pals,ok? So,good night.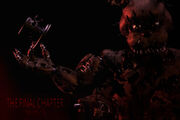 Dipper:No! Bill:LOOMITARY BABY 14:05, May 1, 2015 (UTC)
Ad blocker interference detected!
Wikia is a free-to-use site that makes money from advertising. We have a modified experience for viewers using ad blockers

Wikia is not accessible if you've made further modifications. Remove the custom ad blocker rule(s) and the page will load as expected.