Welcome back to the newspaper! And it's not even paper! Not that that matters, anyway...onto the news!
New FNAF:SL Game Confirmed
I wonder who the character in the teaser is! He almost looks like a different design of the puppet. Almost like...a clown. What do you think? I can't wait for the next teaser!
WAFFLES
Over 1,000 people die each day from never having waffles. Help by..||static|||~~
New FNAF:FC 6 characters
Here are a list of SOME of the new animatronics in FNAF:FC 6.
New Frisco
New Jessi
Aged Frisco
Aged Jessi
Aged Pungoo
Aged Pingoo
Aged Fush
Aged Prang
Manny the Monkey
I WONTZ TELLZ U GUYZ ANYMOREZ RIGHTZ NOWZ WOZ SO MANYZ Zs M8
Weekly Gif
User:Candy crush dude
's Star's Cookies N' Sweets in Minecraft!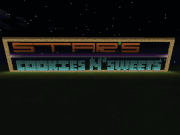 Weekly Poll
SOON M8
Ad blocker interference detected!
Wikia is a free-to-use site that makes money from advertising. We have a modified experience for viewers using ad blockers

Wikia is not accessible if you've made further modifications. Remove the custom ad blocker rule(s) and the page will load as expected.