---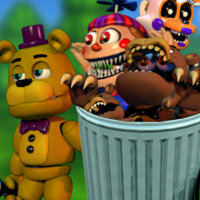 "Fredbear says: To the Halloween Update Backstage you go."
The following page is currently a candidate for deletion. Do not delete this template unless you are an admin or there will be serious consequences. The reason for this deletion is: Credit, for me actually having a semi-decent idea. But, not well executed. Not needed.
--- Voyenanna, shortened to VM, is a red, heavily disrepaired Bonnie; one of the original Fredbear animatronics, she works as a mercenary that accepts payment in the form of an alive guard.
Backstory
Voyenanna used to entertain kids at an attraction within Fredbear's Family Diner. When the restaurant rotted, she initiated herself as a mercenary by purposely damaging herself to near death. Having a near death expierance, she met a being she nicknamed "The Flicker". It apparently told her to work for good, and she did just that, Still having a love for humans, she accepts a live person she can protect as pay for her murdering a target.
Personality
Speaking with a Russian accent. VM is very flirtatious, yet honorbound. She sticks firm to her own beliefs, and wants all people to at least respect her own animatronic status, and to be treated equal.
Special Relations:
Golden Lindsay: She hates her due to the fact she has to try and kill a good person everytime she brings him a guard; honorbound.
Mr. Handy: She loves him, but can't due to her code of honor. Often referred by her as the "One that got away".
Phantom\Hallucinations\Etc.
Her phantom, Flicker, guides her through life.
She has a secret society of guards she accepts as payment.
Trivia
-Her name is Russian for "War Machine".
-"The Flicker" she sees is inspired by a song.
-Originally a war hungry tyrannical female, this was changed because Manin has too many malevolent characters.
-Her Secret Society Of Protected Humans offers protection, health insurance, and a home if needed. Funds from this come from Merle.
Ad blocker interference detected!
Wikia is a free-to-use site that makes money from advertising. We have a modified experience for viewers using ad blockers

Wikia is not accessible if you've made further modifications. Remove the custom ad blocker rule(s) and the page will load as expected.