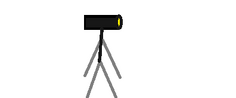 Watchman is a camera-headed animatronic, made by Fazbear Entertainment as a means of protection from animatronics. He appears as a movie camera, stuck on an endoskeleton body.
Backstory
He was made by Fazbear Entertainment, after Melissa Malone filed a complaint with the company because the animatronics "Liked to play hide and seek". After he was made, he was shipped to the Inventory, where he helped Melissa and Alex survive the night. On Night 4, Dezaray can reprogram Watchman to attack the guard, though.
Personality
Often, Watchman is a balance of serious, funny, romantic, and short-tempered, but sometimes he leans to much to one personality. He is very nice to guards and gets along with most animatronics, despite his position on humans.
Special Relations:
Lindsay: She admires him for being human meat-free. He likes her enough, but she sometimes fires arrows at him.
Dezaray: He hates Dez, mostly because he messes with his programming.
Hannah: Having the soul of Melissa, she respects him for trying to help her when she was a night guard.
Games He Appears In
Five Nights At The Inventory 2
Trivia
-His name is a pun on 'Walkman', A Sony music player.
-His camera is a stereotypical movie camera.
-This idea was created in a dream ManinBlack had where he was walking around, looking at the animatronics.
Ad blocker interference detected!
Wikia is a free-to-use site that makes money from advertising. We have a modified experience for viewers using ad blockers

Wikia is not accessible if you've made further modifications. Remove the custom ad blocker rule(s) and the page will load as expected.