---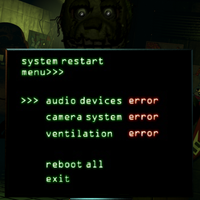 "The systems are in need of rebooting."
This article is a stub. Please help by editing and adding more information to the page. However, you must have permission from the creator of the page, unless you are that said creator, then edit to your heart's intent!
---
(foxy cries)
Snowstruck: Foxy are you hiding something from me? Foxy: well yes. Snowstruck: you can tell me anything! Foxy: Will...You...Marry........ Me?? (sweats) Snowstruck: YES I WOULD MARRY YOU!!!!! Foxy: Wait what? Snowstuck: Im gonna get ready for 3 days! Mangle: Im proud of you foxy! Foxy: Yeah i gusse. The wedding is in three days we need to get ready! Mangle: Ok i will make cake and you get stuff ready! Foxy: ok (scene cuts to kitchen with Chica and Mangle) Chica: That cake looks good (mangle puts snowstruck statue on cake) Chica: IM OUTTA HERE!! (runs away) Mangle: Ok????? (scene cuts in candy land where foxy is putting up chairs) Skittles: And what is this for again? Foxy: For me and snowstruck's wedding! Skittles: OK! (scene cuts to Perfect Wedding Store) Snowstruck: This one please (takes out $100:00) Cash guy: OK! (scene cuts in pirate cove) Foxy: Wedding is tomarrow! This will be epic! !!!TO BE CONTENUIED!!!
Ad blocker interference detected!
Wikia is a free-to-use site that makes money from advertising. We have a modified experience for viewers using ad blockers

Wikia is not accessible if you've made further modifications. Remove the custom ad blocker rule(s) and the page will load as expected.