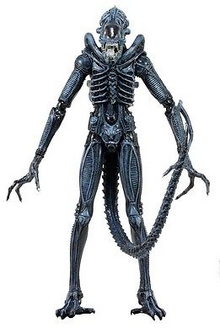 Xenex is an otherworldly being who's quest is to teach humans the joy of creation.
Appearance
Xenex is a Xenomorph-type alien who can camoflauge at will. he actually is a small being inside of a bio-engineered armor
Backstory
An alien learned of the intelligence of the human race. the alien felt that he should attack, to give his race power. he landed in roswell and said he was a prophet of the Joy Of Creation. The alien found out about murders, so made some animatronics possible to possess. this would cause a terrifying chain of events.... Eventually he killed the man on the phone, and disguised as him, leaving the night 5 call
Ad blocker interference detected!
Wikia is a free-to-use site that makes money from advertising. We have a modified experience for viewers using ad blockers

Wikia is not accessible if you've made further modifications. Remove the custom ad blocker rule(s) and the page will load as expected.